TOSCANA Italian Restaurant
A first-rate, Italian dining experience inspired by passion
Trained in Italy, Hong Kong and other culinary capitals, our team of chefs incorporates Michelin star-worthy ideas into their recipes. You can enjoy authentic Italian cuisine prepared by experienced chefs in a Mediterranean setting full of passion and delight. You can be sure it will be an exciting and elegant dining experience complemented by the Tuscan marble interior and floor to ceiling windows that overlook a beautiful verdant garden.
Location: 1st Floor
Hours of Operation:
Lunch: 11:30-14:30
Dinner: 18:00-22:00
Weekend brunch: 10:30-14:30
Due to an adjustment on the menu, our TOSCANA Italian Restauant (1F) suspends afternoon tea service (15:00 to 17:00) since February 15th, 2017. During this period, our Henry's bar and B-one Buffet Restaurant will provide food and beverage service with utmost dedication. We apologize for any inconvenience caused. The Sherwood Taipei wishes you a wonderful day.
Available Teatime Venue
●Weekdays: Henry's Bar (2F)
●Weekends: Henry's Bar (2F) or B-one Buffet Restaurant (B1)
※10 % service charge will be added to the above rates.
For reservations, please call: (02)2718-1188
Corkage fee for wines: NT$500(per bottle); Hard liquors: NT$800(per bottle)

A LA CARTE MENU
Business Lunch Menu
Weekend Menu
Signature Food - Dry-Aged Fillet (U.S. Beef)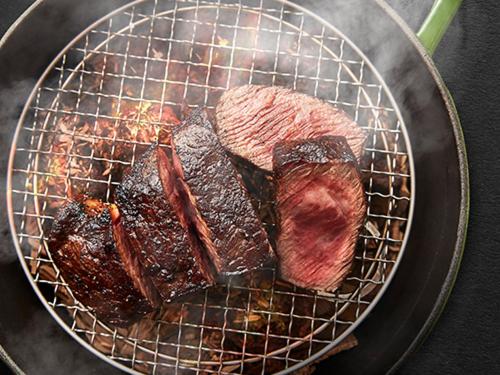 Dry aging technology reserves the best part of beef and helps soften the beef. Dry-aged beef is placed in a special cooler compartment. During the approximate 25-day of aging, 20% of beef would be keep cutting off after being dried. The rest piece of beef remains red and taste extraordinarily juicy. Highly recommended to have TOSCANA dry-aged steak medium rare.
Signature Food - Lobster Pasta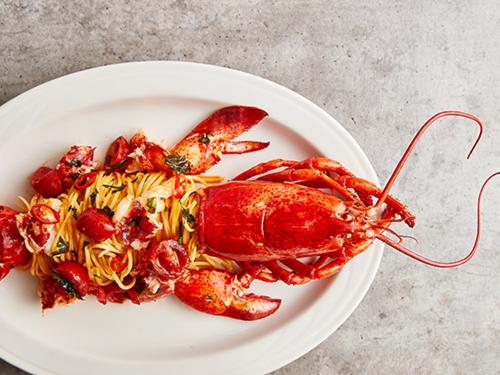 Lobster Pasta is a classic Italian cuisine made from Boston Lobster. The seafood and tomato raise your appetite. Only some olive oil as well as salt may present Mediterranean culinary fest. Lobster Pasta has been one of the most classic cuisines since the opening of TOSCANA Italian Restaurant.
Signature Food - Black Truffle Ice Cream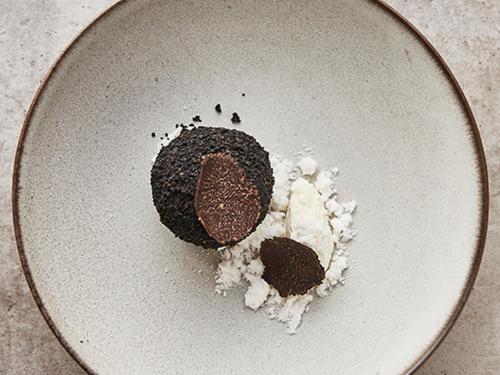 Black Truffle Ice Cream selects high-class truffle from Europe. It melts softly like marshmallow with the elegant taste of black truffle. The dessert is welcome by almost everyone. The must-have dessert after your meal is the most popular and classic one in the TOSCANA Italian Restaurant.
Signature Food - Toscana Italian Restaurant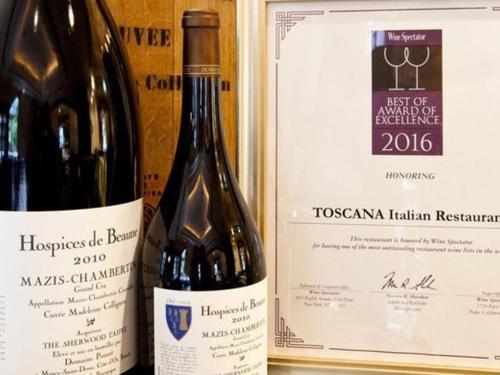 Best of Award of Excellence
Type:Italian Restaurant
No.111, Sec.3,Min Sheng East Road
Taipei, Taiwan
Tel:(02) 2718-1188 transfer to TOSCANA Italian Restaurant.
Wine Director:Orbie Yang